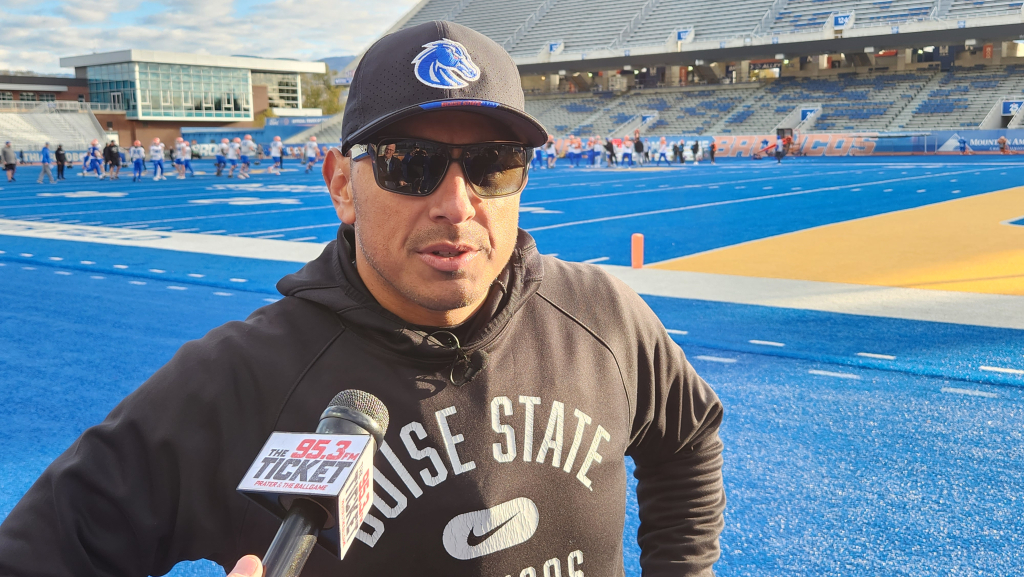 There's a social media video from BNN of Jeramiah Dickey doing the dirty work after the Fresno State game earlier this month: Boise State's athletic director, following another frustrating loss by his football program, was seen in suit-and-tie, helping push large amounts of equipment up a stadium ramp.
His work is only beginning.
Spencer Danielson, the coach suddenly in charge of Boise State football, stood before players in the Broncos' massive team room Sunday morning, put on his positive face, fired up his trademark words of inspiration, and vowed to dedicate the rest of this season to the seniors.
His work is only beginning.
Those same players, seniors and all, filed out of Sunday's emergency meeting, immediately hit social media, and displayed a strong show of unity for the final two games of the regular season. They also have to worry about their own futures.
Their work is only beginning.
Boise State's entire athletic department was rocked early Sunday by stunning and historic news: Dickey woke up, if he slept at all, tired of all the drama and all the losing, went all cold-blooded and fired football coach Andy Avalos.
Emotions aside, that was the easy part.
Boise State football has reached one of its all-time lows.
The work, more than ever, is only beginning.
Boise State hasn't fired a football coach since 1992. Avalos is the reigning Mountain West Coach of the Year, the Broncos have had 25 consecutive winning seasons, they beat New Mexico by 28 points before a large and festive home crowd Saturday night, and they remain in the Mountain West championship race.
Yet Dickey, a proud and competitive man with deep Texas roots, still found the cause to fire Avalos – the first person he hired after taking the job in January 2021.
The firing will cost Boise State up to $3.28 million in buyout money, paid out every two weeks through March 21, 2026, or at least until Avalos gets another job.
The firing means an immediate national coaching search, hundreds of hours of office and staffing time, and millions more in new hires and transitional costs.
The firing means every player on the Boise State roster is free to leave the program immediately, without waiting for the transfer portal to open Dec. 4.
The firing means that the Boise State brand has lost its magic, lost its mojo, lost its national relevance. Bad timing: The transfer portal, NIL, and future College Football Playoff access and the money that comes with it have changed the sport forever.
The sport has become a cruel game of adapt or die, and right now, Boise State isn't in position for any of the goods that college football is offering. Firing Avalos doesn't help – and Dickey still made his bold move Sunday morning, knowing all the hard work ahead, hoping to restore the most powerful sports entity in all of Idaho.
So what happened? How did we get here? How did Avalos, a beloved former player and a genuinely wonderful brother in blue, become the most disliked man in Boise?
Avalos checks so many of the right boxes: Huge part of the Boise State brotherhood, integrity, bleeds blue, respected family man, loved by big-money donors.
But Avalos never garnered the overall respect that is needed to become a successful and powerful coach. He was always positive, even during negative times, and struggled at times with game management and decision-making. He rarely coached with an edge. His players played too soft, especially on defense, and weekend results were wildly inconsistent.
Avalos lost too many games, lost too many big games, constantly struggled to find a quarterback, constantly made public excuses that fans never want to hear, and, ultimately, lost too many of his players in the locker room. There have been widespread reports of player division, even division amongst coaches and support staff.
There was contention, blowups and angst Sunday morning.
And there is a spoiled and unforgiving fan base with gross expectations.
Dickey had no choice but to make a change.
"I am grateful for the passion, effort and dedication Andy has given to our community and his alma mater while serving as our head coach," Dickey said in a statement. "Andy will always be a Bronco and we wish him and his family all the best in their next steps."
Now what?
I don't see Danielson, the interim head coach and defensive coordinator, becoming the permanent coach. Dickey will have to decide: Inside the family, or hire outside the family for the first time since Dirk Koetter in 1998?
I think Dickey already has a name in mind, maybe a couple of names. I don't think he fires Avalos without knowing, "#WhatsNext.'' It's one of his favorite lines, a phrase he constantly uses in his very public social media game.
Dickey has scheduled a press conference for Monday afternoon.
You know he's already grinding behind the scenes.
Boise State athletics isn't rich – Dickey has been begging for money since Day 1 – and salary restrictions within the athletic department could be Dickey's largest obstacle in finding the right coach. He'll find one – in JD we trust, right? – but can he afford to pay the difference-maker that he wants?
Dickey's task is to find the perfect coach to fit this era of college football greed. And that new coach will be tasked with rebuilding the reputation and relevance of a once-proud national program.
Brutal days ahead.
The hard work is only beginning.
Mike Prater is the Bronco Nation News columnist who co-hosts Idaho Sports Talk (KTIK 95.3 FM on Monday-Friday from 3-6 p.m.) and the Boise State football postgame show (KBOI 670 AM). He is on Twitter @MikeFPrater and can be reached at [email protected].